Who Is Who - W
Gary Wallis
Percussionist
Born: June, 10, 1964 in Westminster, London
Gary Wallis joined Pink Floyd on The Momentary Lapse Of Reason Tour. He also plays on the Division Bell and the tour that resulted in the live-album Pulse.
---
Harry Waters
Musician, keyboards
Born 1977
Harry Waters has joined the band of his father Roger Waters for the 2002 world tour. He has played keyboards for many years, but this tour is probably his first step into a professional music career. Harry and his sister India Waters was heard as "children in the garden" on Radio K.A.O.S. from 1987.
---
Roger Waters

Bass player, composer, songwriter
Born George Roger Waters: September, 6, 1943, Great Bookham, Cambridge
School/education: Cambridge High School For Boys, Regent Street Polytechnic
Roger Waters started his musical career when he was supposed to be studying architecture with Nick Mason and Richard Wright. After many constellations and names, the Architectural Abdabs became Pink Floyd when Waters' childhood friend Syd Barrett joined the band. In short time they moved from the underground to big time success. After Syd Barrett left the band again a few years later, Roger Waters became the dominating creative force in Pink Floyd. In the mid-seventies a fight for power started between Roger Waters and guitarist David Gilmour.
| | |
| --- | --- |
| | After the tour with Animals Roger Waters started creating the concept for an album and a huge tour. The Wall was in part about his own life and experiences. At the recording of The Wall in 1979, Roger Waters had total control of the band. He was no longer satisfied with Richard Wright and told him to leave the band. Roger Waters made one more album with Pink Floyd, The Final Cut in 1983. The last album was dedicated to his father Eric Fletcher Waters who died during the British invasion in Anzio, Italy. |
In 1985 Roger Waters officially dissolved the band. But after several trials Pink Floyd continued without Roger Waters and he continued with a solo career of his own. In 1990 he staged the Wall once again - this time in the middle of Berlin. The latest release from Roger Waters is Amused To Death from 1992, but in 1999/2000 he went on a long tour of the US. The tour resulted in the release of a CD and a DVD. The tour continued worldwide in 2002 as a 'best of' compilation was released (Flickering Flame - The Solo Years, Volume 1). Work has started for a new solo album, but so far only 2 new songs has been released as a "digital single" in 2004: To Kill the Child and Leaving Beirut.
June 12th 2005: the happy news came out that Roger Waters and Pink Floyd had finally agreed to go on stage together. This was it support of the Live 8 rock-event on July 2nd.
For several years Roger Waters has been working on his opera Ca Ira about the french revolution. In September 2005 it is finally ready for release.
Pink Floyd Discography
Roger Waters solo discography
Link to the official Roger Waters homepage
Selected videos/film
The Body
The Final Cut
London '66-'67
Radio KAOS
The Wall Live in Berlin
What God Wants
In The Flesh
Selected literature
Bricks in the Wall
Pink Floyd: An Illustrated History
Pink Floyd Lyric Book: Lyrics by Roger Waters
Pink Floyd: Through the Eyes of ... the Band, Its Fans, Friends and Foes
Pink Floyd: The Wall
Which One's Pink?
Pink Floyd: A Visual Documentary
Articles from the scrapbook
Roger Waters Signs New Washburn Signature Guitar Deal
Harmony Central, November 15, 2001
Waters Takes 'In The Flesh' International
Billboard News, Oct. 19, 2001
In The Flesh World Tour - 2002
Press release from Columbia Records, Thursday, Oct 18, 2001
Waters' show presents music of Pink Floyd on a more human scale
Star-Telegram, Sunday, Jun. 11, 2000
Comfortably dark
Dallas Morning News, Jun. 6, 2000
DANGER! DEMOLITION IN PROGRESS
Interviews. MOJO December 1999
Roger Waters Runs Happily Over the Same Old Ground
Rolling Stone Magazine, August 1999
---
Snowy White
Guitarist
Born Terence White in England, March 3, 1948
Started playing with Pink Floyd when he recorded a guitar solo for the extended version of Pigs On the Wing in 1976. Afterwards he toured with Pink Floyd in 1977 and recorded with Richard Wright on his solo album Wet Dream. He was a member of the 'surrogate band' at the Wall concerts in 1980.
In 1986 he joined some sessions for Radio K.A.O.S. but his work was not included on the final album. The same thing happened with the recordings for Amused To Death in 1992. He played live with Roger Waters at the Berlin show in 1990. He has also been a member of the Roger Waters team on the tour of US 1999/2000 and the continuing world tour of 2002.
Snowy White has released a few solo albums and has also performed with Peter Green, Cliff Richard, Thin Lizzy, Mick Taylor and several others. "Restless", the newest album by Snowy White is released on May 20, 2002.
| | |
| --- | --- |
| | |
| Buy selected CDs with Snowy White | |
| | |
| Restless | CD |
| Essential Gold | CD |
| Pure Gold-Solo Years 1983-98 | CD |
| Little Wing | |
| White Flames | |
| That Certain Thing | CD |
| Highway To The Sun | |
| Masters | CD |
| Change my Life | |
| Keep Out - We Are Toxic | CD |
| Open For Business | |
| Snowy White | |
| Melting | CD |
| Goldtop | |
| | |
---
Willie Wilson
Singer, bass-guitarist, drummer
Born: John Wilson, July 8, 1947 in Cambridge, England
Wilson started out playing in the Cambridge band 'The Swinging Vibros' when he was 16 (1963). The other band members were: Nick Barraclough (guitar, bass and vocals), Brian Carling (vocals and guitar) and John Anderson (rhythm guitar). Read more about the history of Rock and Roll in Cambridge (including Pink Floyd) on this homepage: http://www.geocities.com/HappySurfer1/
Around 1966 Willie Wilson played in Jokers Wild with David Gilmour. Willie Wilson later joined the band Quiver. He had sessions with the two solo recordings for Syd Barrett (The Madcap Laughs and Barrett) and he played on David Gilmours' first solo release. He also played in the "surrogate band" for the live performances of the Wall and added drums for the movie soundtrack of Pink Floyd - The Wall.
---
Rick Wright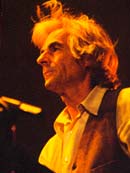 Keyboard player, pianist, songwriter
Born: Richard William Wright, July, 28, 1943, Hatch End, London
School/education: Haberdasher's School, Regent Street Polytechnic
Died: September 15, 2008.
The keyboard player of Pink Floyd also played in the early constellations Sigma 6 and The Architectural Abdabs in 1965. Around 1982 he was forced to leave the band by Roger Waters who didn't think Wright contributed enough. After Waters also left the band Richard Wright was hired as a studio musician for A Momentary Lapse Of Reason. At the release of the Division Bell he was again officially a member of the band. Wright has also made some solo albums. The latest was Broken China from 1996. Richard Wright is father-in-law to Guy Pratt.
Richard Wright who was one of the founding members of Pink Floyd has sadly passed away after a short struggle with cancer.