Who is who? - M
Nicholas Berkeley Mason

Drummer, percussionist, producer
Born: January 27, 1944 in Downshire Hill, Birmingham
School/education: Frensham Heights, Regent Street Polytechnic
Nick Mason is the drummer and percussionist in Pink Floyd and he is the only member who has been present all the way. He has played on every Pink Floyd album and has worked a lot with their stage shows, but he has only taken small part in the composing and shaping of the Floydian sound. Mason started playing with Roger Waters already in 1965 in the pre-Floyd bands Sigma6, the Abdabs the Pink Floyd Blues Band and more.
In spite of the conflicts about the name of Pink Floyd, Roger Waters and Nick Mason happily seems to be on good terms. Mason joined Roger Waters on the last two nights of his 2002 world tour. Mason played drums on the old Floyd song Set the Controls For The Heart Of The Sun.
| | |
| --- | --- |
| | Mason was the last of the band members to try out with a solo project. Nick Mason's Fictitious Sports was released in 1981 together with Carla Bley, Michael Mantler and Robert Wyatt. He has worked several times with former 10CC guitarist Rick Fenn producing stock music and music for TV-commercials. In 1985 they made a common album called Profiles. |
Cars and motor sport are almost as important to Nick Mason as the music. It can be seen in the documentary La Carrera Panamerica where he is driving with David Gilmour. He has also been in Le Mans together with the band manager Steve O'Rourke. Nick Mason is married for the second time and lives in London.
Nick Mason has played and produced several albums for The Damned, Gong, Steve Hillage, Michael Mantler, Principal Edward's Magic Theatre, Gary Windo, Robert Wyatt and many other artists.
---
Durga McBroom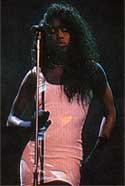 Singer
Born: October 16, 1962 in California, USA
Backing singer on the Momentary Lapse of Reason / Delicate Sound of Thunder tours. Hired by David Gilmour after he saw her photo and heard her on a Nile Rodgers album she was working on together with her siuster Lorelei. Durga McBroom also sang at the Knebworth concert and later on the Division Bell and the following tour in 1994.
Between the work for Pink Floyd she made an album with musician Youth. Together they called themselves Blue Pearl and had a hit with the song Naked In the Rain. Gilmour and Rick Wright is also featured on the album.
Buy this album from Amazon!
---
Lorelei McBroom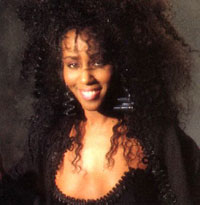 Singer, songwriter, producer
Born in Los Angeles, USA
Lorelei McBroom started her musical career singing and writing songs for Sister Sledge and Philip Bailey. It was the legendary producer Nile Rodgers who first discovered her talents. In 1988 David Gilmour met the Lorelei and her sister Durga, while they were recording an album with Nile Rodgers. Durga started touring with Pink Floyd on the first leg of the Momentary Lapse of Reason Tour –and later on Lorelei joined the tour and continued with the tour called Delicate Sound of Thunder. She can be seen in the music videos for "On The Turning Away" and "Dogs Of Wars". She was also on stage for the TV-transmitted concert in Venice. The Pink Floyd concerts were Lorelei McBroom's first experience to "the road", but soon after she joined Rolling Stones on one of their big tours.
Since then Lorelei has grown into a budding record producer and concert promoter, working in differnet ways together with Grace Jones, Lou Reed, Billy Idol and often with Nile Rodgers. She participated on the 911-remake of "We are family" together with Queen Latifah, Patti Labelle, Luther Vandross, Diana Ross and many others. Today Lorelei McBroom is pursuing a solo career.
| | |
| --- | --- |
| | |
| Buy selected albums feat. Lorelei McBroom | |
| | |
| Warrior: The Perfect Weapon | CD |
| We are Family (single) | CD / DVD |
| | |
---
Anthony Moore
Songwriter, composer and musician (guitar, keyboards)
Anthony Moore was a member of the band Slapp Happy in the seventies. The band later merged with Henry Cow. He has done sessions for Richard Wright, Kevin Ayers, Dream Academy, Andrew Lloyd Webber, Manfred Mann and other artists. He has also released albums as a solo artist.
Moore co-wrote part of the songs on the post-Waters Floyd albums A Momentary Lapse of Reason and The Division Bell. In 1996 he wrote material for the Richard Wright solo album Broken China which he also co-produced.