Wouldn't You Miss Me
Best Of Syd Barrett
Syd Barrett compilation released from EMI: April 16 2001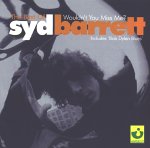 Buy this album from Amazon!
The CD is a UK-compilation of 22 songs. Most interesting is the previously unreleased Barrett composition Bob Dylan's Blues. The recording (from February 1970) has been in David Gilmour's private collection untill now. Two Of a Kind is a recording from the Peel Sessions. The remaining songs are from Syd's two solo-albums and Opel.

Tracklist:
Octopus
Late night
Terrapin
Swan Lee
Wolf pack
Golden hair
Here I go
Long gone
No good trying
Opel
Baby lemonade
Gigolo aunt
Dominoes
Wouldn't you miss me
Wined and dined
Effervescing elephant
Waving my arms in the air
I never lied to you
Love song
Two of a kind (BBC session track)
Bob Dylan's blues
Golden hair (instrumental -from Opel)
BOB DYLAN's BLUES
Syd Barrett 1970
Lyrics/Music: Barrett
The song was recorded during a session in February 1970 but has not been released untill 2001.
I've got the Bob Dylan Blues
I've got the Bob Dylan Blues
My hair and my hat's in a mess
But I don't give a damn about that!